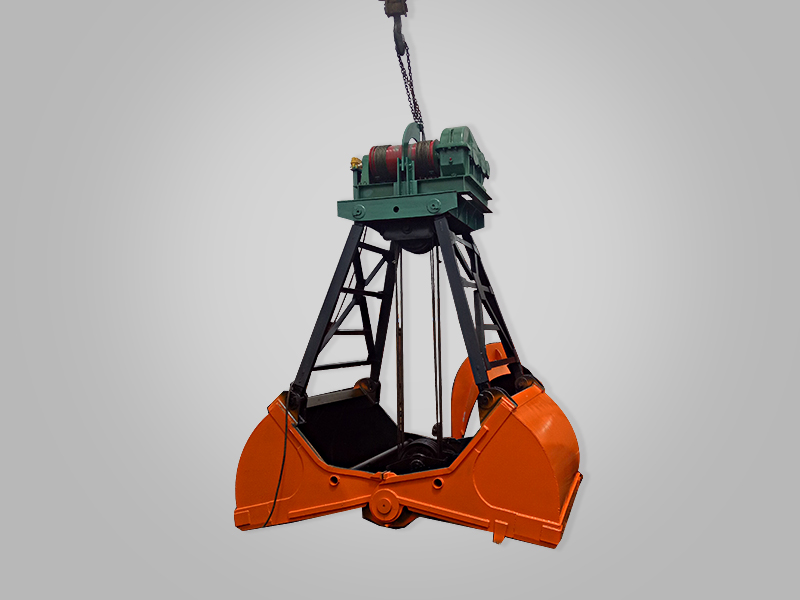 detailed information
  Four rope grab
The four rope grab is mainly used with bridge crane or gantry crane with two sets of lifting drums to grab all kinds of loose accumulation materials for loading, unloading, transferring and feeding.
Working principle of four rope grab
On all kinds of cranes, there are two groups of motor drums (i.e. electric hoist), each group of drums leads out two steel wire ropes, two of which form a group and are respectively rooted at both ends of the grab balance frame, and the other group of wire ropes pass through the pulley of the upper beam and the pulley of the lower crossbeam to form a pulley block to open and close the bucket part.
At the beginning of the work, support the steel wire rope to lift the grab at an appropriate position, and then lower the opening and closing steel wire rope. At this time, the self weight of the lower crossbeam forces the main axis of the beam below the bucket part to open the bucket part. When the bucket part is opened to the collision block of the two ear plates, that is, the bucket part is opened to × × ×. When opening the bucket, the center of the upper beam pulley and the lower crossbeam pulley is greatly enlarged, and then the supporting wire rope falls down. The opened grab falls on the loose accumulation to be grasped, and the closed wire rope is retracted and bypassed, and the center distance between the upper beam pulley and the lower beam pulley is restored to the original position, which completes the material grabbing process. The closed bucket has been filled with materials. Finally, the open and close steel wire rope is lifted, and a grab bucket is also hoisted. After the crane is moved to the required unloading site, the bucket is opened to unload the materials.